About the Production
The Hand That Holds The Quill – written by Cindy Rock Dlugolecki, produced by Janet Bixler, directed by Chris Krahulec and with musical compositions by Chris Purcell (an all-women production team that includes Ellen Carnahan as music director and Carol McDonough as stage manager) – is a play about Jacob Shallus, who was commissioned as the engrosser of the original copy of the U.S. Constitution. The Man Behind the Quill, a biography about Shallus by Arthur Plotnik, inspired the play.
While Shallus and his American patriotism is the play's inspiration, The Hand That Holds The Quill focuses on the women connected to Shallus and their role and influence during the moment in time that he penned the parchments of the Constitution. The play also recognizes the wives of delegates who framed the Constitution and African Americans of the AME Church who were advocating for the abolition of slavery and literacy for the Black community. The play will engage the audience to think on this question: Who and where am I in the Constitution?
The Hand That Holds The Quill premiered at Central Penn College in Summerdale, PA, with three performances in September 2021. A performance was also staged at the National Constitution Center in Philadelphia.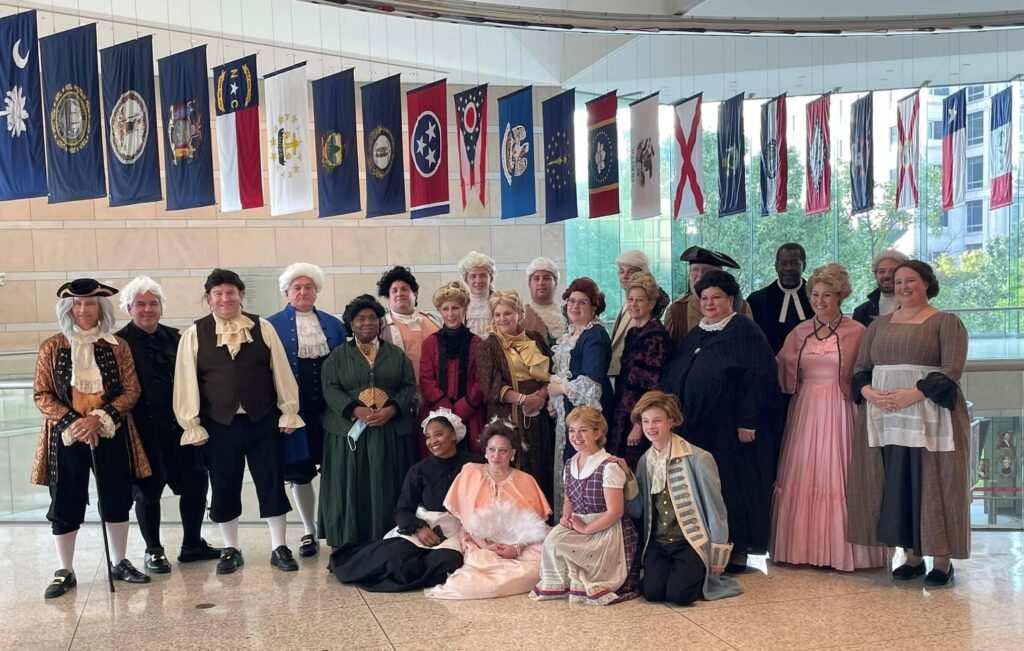 "In 1787, a Philadelphia clerk named Jacob Shallus was hired to scribe the first official copy of the newly-drafted United States Constitution. Over two hundred years later, one of his descendants has written a play about Shallus, his work at the Constitutional Convention, and the famous men who drafted the document which he then penned."

Sean Adams, Pennlive
"The Hand that Holds the Quill combines some personal history that links [the playwright] to the writing of the U.S. Constitution, along with the voices of wives and children of the Founding Fathers and some lesser-known African-Americans who already were advocating for the abolition of slavery in the new nation."

David N. Dunkle, The Sentinel
"The play makes people think about who was fully included in our country when the Constitution was drafted—and who was largely ignored, such as women, people of color and immigrants."

Barbara Trainin Blank, The Burg
Jacob Shallus may or may not have realized the legacy of his handwritten letters engrossed on a four-page document called the U.S. Constitution. But his cousin Cindy Rock Dlugolecki certainly does. She hopes more people learn and share the little-known story of his contribution to American history.

Beth Ann Miller, The Daily American
"You have renewed an interest in history I never knew I had."
"Your play truly was thought provoking, entertaining and inspiring. I really love the perspectives you showed on that moment in history."
"[I] was amazed at [Cindy's] research, her ability to hold my attention through the play and her attention to detail in bringing the issues of the past and present together."
"We found the story line to be a unique and powerful focus on the writing of the Constitution."
The Hand That Holds The Quill Music Sample