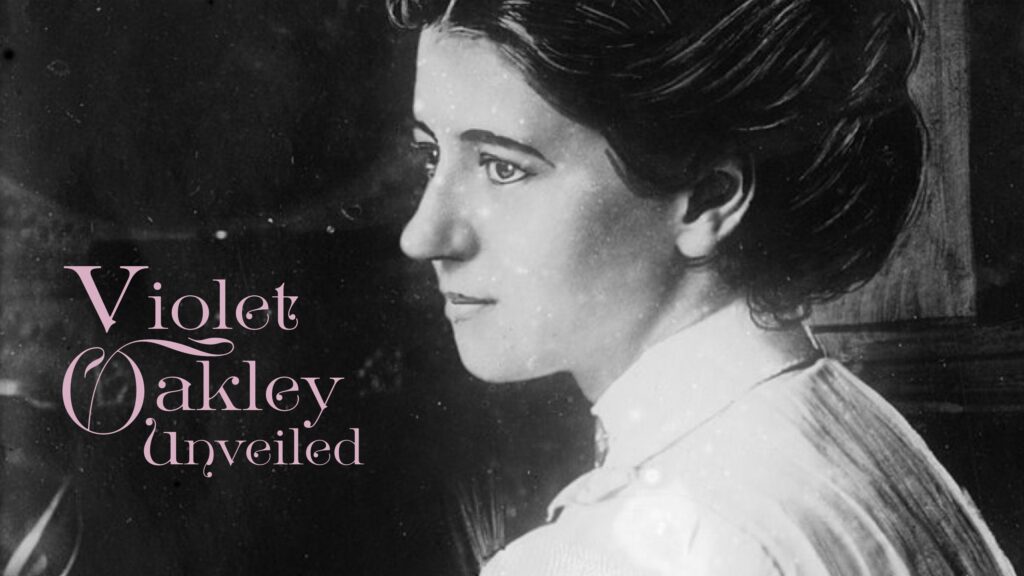 In November 2021, Violet Oakley Unveiled had a limited special engagement at Open Stage, a theatre company in Harrisburg, PA. One performance celebrated the 100th anniversary of the Harrisburg chapter of the AAUW.
Violet Oakley, in 1902, was the first female artist to be awarded a commission to decorate a public building: the newly constructed Pennsylvania capitol. In Violet Oakley Unveiled, Violet returns to to expose the personal trials and triumphs hidden in her 43 capitol murals.  
Stephanie Via portrayed the passionate activist and feminist artist Violet Oakley in this one-woman play written by Cindy Rock Dlugolecki, with a score composed by Chris Purcell. Via's performance was so powerful that she received a standing ovation at the end of each.
Pictures from the performance may be found under "Gallery." Special thanks to Open Stage for permission to use the above graphic.
Meet Cindy Rock Dlugolecki
Cindy Rock Dlugolecki is a playwright who resides in Mechanicsburg, PA. The Hand That Holds The Quill is the latest project in Dlugolecki's long writing career. Now age 72, she began writing in a high school journalism class and never stopped. While juggling marriage, motherhood, and teaching high school English and creative writing, she attended playwriting workshops and earned her master's degree in creative writing from Wilkes University.
Dlugolecki's credits include 18 plays of various lengths—10-minute plays, one- and two-act scripts, and a collection of monologues—mostly produced in central Pennsylvania theatres; two plays are published. Her works have earned both national and international recognition.